Opens 9:00am closes at 5:00pm
Large spacious venue with free parking.
Cafeteria and toilets on on-site, full disabled access.
Free talks on practical astronomy techniques and equipment, for all experience levels.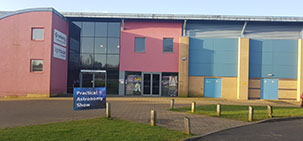 Travel info
Practical Astro Show DATE:
The show will be open from 9am to 5pm 
We would like to thank the vendors, speakers and the astronomy community for their support and enthusiasm! Thanks to you, the show was a great success with many positive comments from vendors and attendees alike.
A completely free astronomy show
The Practical Astronomy Show is a one-day show at the Kettering Conference and Exhibition Centre.
The show aims to bring a selection of leading astronomy businesses, organisations and educational institutions together under one roof, for one day. Astronomy products and services will be available for purchase from various stands.
The show is free to attend, and there will be free talks* about the practical aspects of astronomy, with an emphasis on using and getting the best out of astronomy products.
Organisations involved in astronomy education, outreach and tourism will be available to meet and greet the general public.
The show caters for all levels of practical astrophotography and visual astronomy. We hope that no matter what your experience level, there will be something interesting for you at the show.
* Talks cannot be booked in advance. Tickets for the talks will be available at the show, strictly on a one-per-person basis.
Food and drinks are available for purchase at the show. Full disabled access is of course provided.
The practical astronomy show is organised by Nick Vermeulen and John Timmins, both passionate amateur astronomers since childhood.