PAS2020 Free talk times & speakers: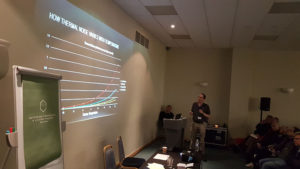 9:00 Show opens.
Please note: Talks cannot be booked in advance. Tickets for the talks will be available at the show ticket desk at 9:00, strictly on a one-per-person basis. We suggest arriving at the show early to get your tickets. You can attend as many talks as you like, provided tickets are available.
Talk topics may be subject to change.
Talk #1 9:30-10:20 Paul Money, FRAS, FBIS "What to look out for, from naked eye, to a telescope". With Q&A.
Talk #2 10:50-11:40 Helmut Kessler, Solarscope "Hydrogen Alpha Solar Telescopes, with Q&A".
Talk #3 12:10-13.00 Ivaylo Stoynov, Astro Photography Tool "Modern Astrophotography and APT, with Q&A".
Talk #4 13:45-14:35 Gain Lee, Astro-Imager "A Galaxy Far Far Away! Imaging beyond the Messier Catalogue, with Q&A".
Talk #5 15:05-16:00 Damian Peach "High Resolution Astrophotography, with Q&A"
17:00 Show ends.
For updates, follow the Practical Astronomy Show on Facebook: